10 Best Data Analysis Tools Available Today
Share this
An integral part of modern business, data analysis is something that requires a lot of attention for a business to succeed. And, for that choice, the right data analysis tools are a must.
Moreover, you require a tool that is fit for every one of your needs. So, to help you determine the best data analysis tools, we will need to consider the important factors for choosing them and also have a look at some of the most popular options that are available in the market.
Firstly, you should understand the data type that your organization wants to analyze as well as your data integration requirements. Additionally, you also need to choose the tables and columns of the data sources.
Furthermore, replicating the data to a data warehouse should also be considered, in order to create a single source for data analytics.
Likewise, if data are shared between departments, there should be permission systems and access control. Therefore, data governance and security should also be prioritized.
Choosing the Correct Data Analysis Tools
So, now that your data is ready, you begin the selection process to find the best tools that are a great fit for your company.
Start by learning about your business needs and learning about who uses the tools. Will the users be trained data analysts and scientists or non-technical users, or should you look for a tool that is fit for both of them.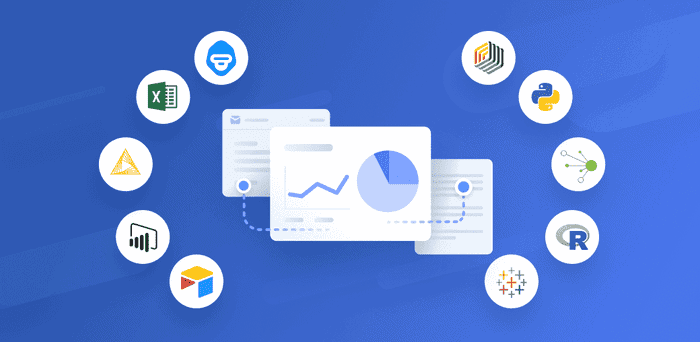 Some platforms provide point and click analysis, suitable for non-technical users while others provide sophisticated experience, iterating code development. In addition to this, the platform's data modelling capabilities should also be considered.
Finally, the cost and licensing should be considered. As there are various options, some of them offer free features while others have licensing or subscription fees.
However, you should know that the most expensive tools aren't always the feature-loaded ones, you should not ignore the robust and powerful free options as well.
Best Data Analysis Tools Available Today
Now that you know how to manage your data and also learn about the factors to look for while choosing the data analysis tools, let's find out the best options available in the market.
I have tried to make the list as diverse as possible, in no particular order, so that it suits for various types of organizations. So, let's jump into the list.
1. Microsoft Power BI
Microsoft Power Bi is a business intelligence application or a suite of such applications that supports multiple data sources. It allows the users to create reports, dashboards and visualizations as well as share them.
Power BI integrates Azure Machine Learning that allows users to build automated machine learning models. Furthermore, for simple distribution, group of reports and dashboards can be combined through a Power BI app.
2. Sisense
Using Sisense can be a fruitful platform to use as it helps both business analysts and technical developers to visualize and process the business data. One of the unique features of Sisense is that it has In-Chip technology, that optimizes computation to use CPU caching rather than slow the RAM.
Additionally, it has a collection of drag-and-drop tools and provides interactive dashboards that allows collaboration.
3. Thoughtspot
If you require an analytics platform that allows the exploration of data through various sources through reports as well as natural language searches, Thoughtspot is the best option for you.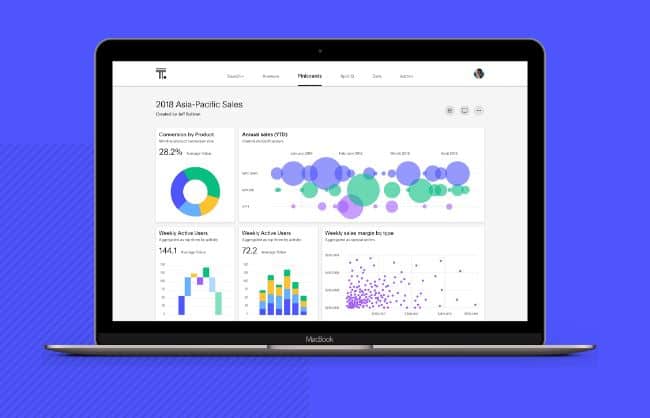 Moreover, it also integrates an AI system that provides insights that help the users to uncover patterns they didn't know to look for.
Also, the platform allows to automatically join tables from different sources. This helps to break down the data silos.
4. Qlik
Qlik is platform that supports both on-site and cloud deployments, while providing self-service data analytics and business intelligence. The strong points of Qlik are it supports data discovery and exploration by both non-technical and technical users alike.
It does so by supporting various types of charts that can be customized by drag-and-drop modules as well as embedded SQL.
5. Google Data Studio
Being a product of Google, the Google Data Studio automatically integrates applications like Google Analytics, Google BigQuery and Google Ads. Thanks to this, Google Data enables the users to easily analyze Google Data.
However, Data Studio can also work well with other sources as long as the data is replicated to BigQuery beforehand.
6. Metabase
Looking for a free, open-source business intelligence and analytics tool? Well, Metabase is one of the best ones out there.
As it provides point-and-click interface for query construction, it is easier for non-technical users to use. However, this only works well for simple aggregations and filtering. For more complex analysis, users can jump into raw SQL.
Also, Metabase can push analytics results to external sources as well.
7. IBM Cognos
IBM Cognos provides business intelligence through a built-in AI system that gives hidden insights into the data and explains it is simple terms.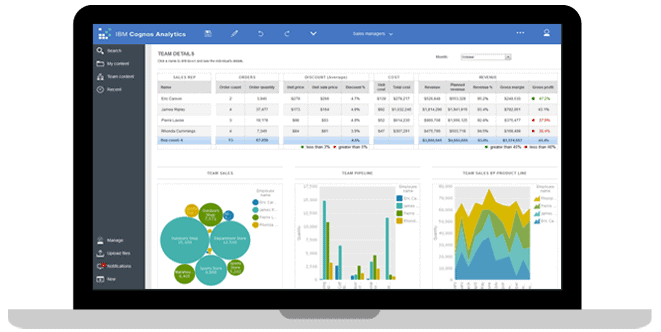 Cleansing and aggregation of data are also automated by its data preparation tools. This provides faster integration and experimentation of data sources for analysis.
8. Oracle Analytics Cloud
Having a suite of business analytics and intelligence tools, Oracle Analytics Tool also helps large organizations shift to modern cloud platforms.
Not only this, obtaining insights from data is made easier through simple visualizations using machine learning algortihms.
9. Python
Python is an open-source, high-level programming language that is preferred by analysts and data scientists. It can integrate third-party packages for data visualization and machine learning, while also being capable of various analysis processes on its own.
Furthermore, Python is also used in other analytics systems as a programming interface.
10. Excel
Honestly, there are hardly any people that do not know about Microsoft Excel. That is why, it is one of the most common tools used for building analyses and manipulating spreadsheets.
It has decades of development behind it, making Excel capable of supporting almost analytics workflow. Moreover, it is also extendable through Visual Basic.
However, having only 1 million rows, Excel is incapable of analyzing big data.
In my opinion, large organizations should opt for more modern cloud-based analytics platforms for collaborative analysis.