8 Steps to Understand SaaS Product Development? Ultimate Guide
Share this
Businesses use SaaS applications for a variety of purposes within their organizations. SaaS or "on-demand" software dates back to the 1970s.
Software as a Service (SaaS) products have become essential to enabling businesses to deploy specific systems at a low cost. Time and the Internet boom have greatly simplified access to various software solutions.
On the other hand, the management of these software solutions has become very important. The explosive growth of SaaS companies in recent years is a testament to the dynamic technology landscape of the business world over the past few decades.
Like many large enterprises transitioning to SaaS and cloud operations, it becomes more important to manage them and find a way to manage them properly. This had a huge impact on the product space.
In contrast, SaaS products are essentially online software accessible to Licensed Users. Management includes a wide range of responsibilities.
As a result, product management has taken on different meanings for different organizations. Studies show that effective product management can increase revenue by 34.2% with effective implementation.
Product management is a process that ensures the successful completion of the product lifecycle. Basically, it's about improving your product with the right performance improvement plan. SaaS product development management is essential to providing the best possible solution according to the needs of our customers.
What is SaaS Product Development?
Software as a service (SaaS) is a cloud-based application that allows the software to be delivered over the Internet without requiring any installation or maintenance. 
SaaS product development is essentially online software accessible to Licensed Users. Management includes a wide range of responsibilities.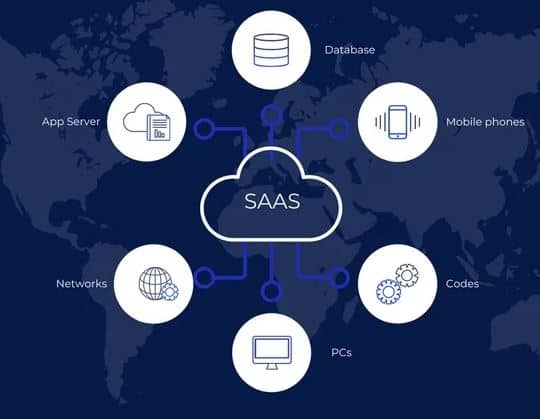 Steps to start SaaS Product Development
Make sure about your idea
Before you start your next SaaS product development, try to answer a few questions honestly. First and most importantly, does the world need my product? Your close ones may think your idea is fantastic, but would a passerby agree with it? Will the target client agree?
Matter of fact, instead of thinking about what you're building, think about who you're building SaaS product development for. And before you start building your solution, reach out to some prospects to ask about their challenges and use them as research and development throughout the process.
You can use survey tools like Qualaroo and Proprof's Survey Maker to gather feedback from your prospects and get helpful tips.
So, discuss the smallest details with your CEO or your existing team.
What problems does your software solve?
Who is your main target audience?
How are you different from your competitors?
Main features of the product
Basic requirements of SaaS
All good SaaS products have some things in common, so the foundation for building a viable product is a clear plan for security and privacy, customization and integration options, and scalability.
In the old days of software development, security was often seen as a finish and retrofit rather than a basic feature of a high-quality product. Consumers today expect data security and privacy, and current and future government regulations absolutely require the highest levels of security.
In fact, discuss whether software needs to be customized to specific needs or integrated with existing complementary tools based on customer and client needs. Finally, software products need to be prepared to meet the ever-growing needs of users.
Define minimum viable product
Minimal feasible products are the basic core features that create immediate value for the user at the lowest cost on the part of the user. Feature prioritization is an important component and provides insights into the capabilities that product teams prioritize in the MVP.
Basically, Minimum Viable Products are what early adopters receive and test.
Pricing model and strategy
Pricing models and strategies can easily affect or destroy software products. No matter how good it is, you can't attract and grow your customers without tailoring your pricing model to the needs, habits, and financial position of your target audience.
However, pricing models need to be planned in the long run, but proper pricing strategies can be comfortable in the market in the short run. The right pricing model and strategy depends on the product, long-term planning, target audience, and many other factors.
Technical specifications
Next, decide how to build the software. At this point, you need to consult with experts who define the programming languages, platforms, software, and tools needed to build a SaaS product development. 
This decision should be made with both MVP and long-term planning in mind.
Assemble a development team
Leading a development team depends greatly on the type of software you are building. Choosing the right development team is a multi-step process, so follow the more detailed checklist in the next section.
Determine your project
With all the steps you've taken so far, you'll have a clear idea of ​​the cost of developing a SaaS product at this point. Remember to consider the time it takes to develop and sell your product.
Building a SaaS product can take up to 10 months, but most SaaS MVPs take about 6 months. Remember to carefully plan your budget sources and budget allocations and anticipate setbacks and challenges that could put an additional financial strain on you.
In this case, you need to find a new source of funding in the middle of the project. This can result in unnecessary delays.
Organize the work-flow
The SaaS product development process requires a lot of flexibility, fine-tuning, and constant communication, so it's very important to find the right tool to keep your workflow on the same page all the time.
However, there are many tools that handle different aspects of your workflow individually, but it is highly recommended that you use a more powerful tool that successfully provides all of these features in one package.