A Complete Guide to Content Management for Mobile Apps
Share this
The content consumption in today's world, is ever-increasing and mobile devices play a critical role. Thus, it has become important now, to manage data across all the platforms i.e. Web, Desktop and Mobile devices, than ever before.
Since we are talking about content management for mobile apps, let us begin by knowing what it really is.
It is basically a system or an application used to create and manage content for a mobile app. As every content needs management, there are specific CMSs to do that for mobile apps.
Moreover, there are two types of content management systems or they have two basic purposes: Record keeping and document management functionalities are handled by Enterprise Content Management while Web Content Management helps developers with the files and features for websites.
Features of content management system for mobile apps
As the mobile ecosystem is largely divided into the iOS and Android platforms, the content management for mobile apps includes features for both.
Some of the key features to keep in mind when considering a Content Management for mobile apps are:
Track changes made to single or multiple files as well as the ability to perform multiple revisions.
Have publishing features like the ability to create a publishing template from scratch or have a ready-made template.
Format management features that can convert normal documents to HTML or PDF documents.
Automatic indexing capabilities allow searching, retrieving, and accessing all the data in the mobile app.
Choosing the best CMS for Mobile apps
There is a multitude of Content Management for Mobile apps on the market. So, how can you choose the most suitable one?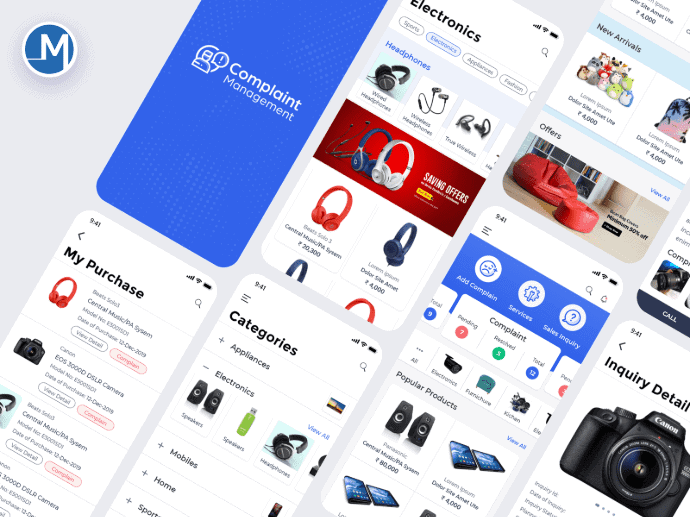 One of the first thing to consider while selecting a CMS for mobile apps is to not choose the CMS developed solely for mobile apps. This is because you want a solution that is flexible and works across all the platforms or devices.
It slots into the micro-service architecture as well as boosts the efficiency and ability to collaborate at every stage.
Some other factors to consider when deciding upon a CMS are:
User-friendliness: CMSs should be user-friendly as they should help you organize everything through a single administration panel.
Easy Editors: You should choose a CMS that keeps things light and organized with an easy interface and a simple editor.
Minimal Server Requirements: This is necessary so that it doesn't take extra place to apply a CMS for mobile development.
Easy Files Management: There should be integrated file managers to help you revise, update and record without having to think about cross platform limitations.
Marketing with a CMS for Mobile Apps
There are numerous ways to market your product in the diverse retail world of mobile applications.
One of the most effective ones is one-to-one marketing. This enables you the ability to advertise to the customer's specific quirks and demands.
The one-to-one marketing system gathers information given by the user to measure what the users are specifically looking for.
Moreover, a CMS can make you SEO-friendly URLs as well, so you can effectively advertise for the mobile app. This sanctions your website to have content that is sure to bring in a lot of traffic.
Conclusion
Generally, there are several CMSs available when it comes to developing mobile apps. Some of the most widely used CMSs are WordPress, Sitefinity and Heap.
However, you should keep in mind that each of these developers has their own set of choices and preferences. Yet, it is also important to remember that these are content management systems and they make editing and storage of content more streamlined; and don't necessarily contribute to the functionality of the app.
If you want to learn about my top picks for Free Content Management System for 2021, click on the link below.